Morisa's Case Studies Cosmetics and Miscellaneous Goods
Here are some examples of the use of Morisa's products.
Packaging using Japanese paper "Cosmetics and miscellaneous goods
I would like to try using Japanese paper, but I think it is too difficult to use Japanese paper for cosmetics…
Here are some examples of companies that have realized the use of beautiful Japanese paper.
The modern Japanese design of the packaging is popular among international tourists and young people.
The products of a Kyoto-based cosmetics manufacturer are gaining popularity because of their unique Kyoto-style packaging with a focus on harmony.
We asked the design manager of the manufacturer about the use of washi in cosmetic packaging.
---

Kyoto Shabobon-ya
Founded in 2009 in Sanjo-Takakura, Kyoto, "to deliver happiness by making people's minds and bodies clean", the company aims to become a new long-established store in Kyoto as a "100% natural cosmetics" store that focuses on natural and natural ingredients. Our commitment to our products is also reflected in our design.
Based on the concept of "creating a design with a Kyoto motif that is both innovative and traditional," the packaging "conveys the quality of the product at a glance" and catches the customer's eye.
---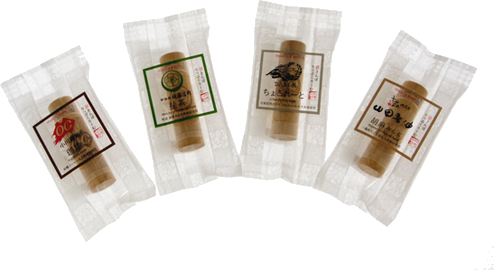 This is a lip balm from the sister brand "Shabonya Potchi
Kyo-Sanpo Rippukurimu" is a luxurious product handmade with carefully selected natural ingredients in collaboration with famous and popular stores in Kyoto such as Ogawa Coffee, Gion Tsujiri, Dari K, and Yamada Seiyu.
If the ingredients of the lip balm are natural, the body is made of bamboo and the bag is made of Japanese paper.
A transparent film window is placed in the center to allow the products to be seen.
If you consult with us at the planning stage of a new product, like this product, we can create bags with the right application, size, and image for your product.
For custom-made bags, a delivery time of 2 weeks to 1 month is required.
---
This is an assorted gift found in cosmetic stores.
Morisa's laminated paper (patterned in cloisonne and jade: lamination is a custom-ordered product) is used as the background for the assortment packs.
The idea is to enhance the Japanese design of Kyoto while maintaining the shape of the product, even when the product tends to lose its shape depending on the combination of products and is difficult to wrap.
This little ingenuity could be used for other purposes as well.
---
VOICE
Kyoto Shabonya (Kyoto Natural Factory Co., Ltd.) has been using Morisa washi since 2013.
We asked Mr. Ohashi, the designer, about Morisa's paper.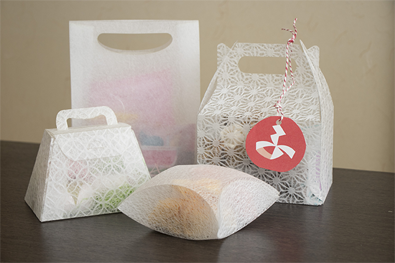 Containers for cosmetics and sundries come in a variety of shapes, and transparent containers with a view of the inside are convenient for packaging an assortment of products of different sizes for display.
New material of Morisa's plastic material and Japanese paper lamination
With WA-MIX Lami, the transparency and texture of Japanese paper enhances the image of the product.
Please contact us.
Contact us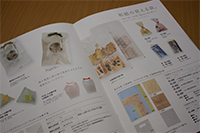 For inquiries about products in the cosmetics and sundries section, please use the inquiry form below.
We will send a Morrisa catalog to everyone who fills out the questionnaire and makes an inquiry.